Behind the name of every town and city of the Philippines, there's a distinct product attached to it. Whenever you visit a place in the Philippines, chances are you're going to bring home a product unique to that place. This is what the One Town, One Product (OTOP) is all about, to bring to the mainstream market products and services distinct to a Philippine town or city.
One Town One Product (OTOP) Philippines is a priority program of President Gloria Macapagal-Arroyo to promote entrepreneurship and create jobs in the countryside. OTOP was adopted from the "One Village, One Product" (OVOP) project of the Japan and its success led to the adoption of the concept by Thailand, Vietnam, Malawi, Cambodia, Pakistan, India, Bangladesh and Indonesia.
Through OTOP, local chief executives take the lead in identifying, developing and promoting a specific product or service, which is distinct to their locality and has a competitive advantage through the use of local skills and indigenous raw materials. Through OTOP, SMEs can avail of comprehensive package of services from the LGU, government agencies and private sector. These services are technical support, fund sourcing, branding and package design, business skills and access to markets both local and foreign.
In Negros Occidental, the 13 cities and 19 municipalities are promoting products such as processed foods, handicrafts, aquaculture and agriculture products and garments. There are also cities/municipalities which are promoting tourist destinations as their OTOP.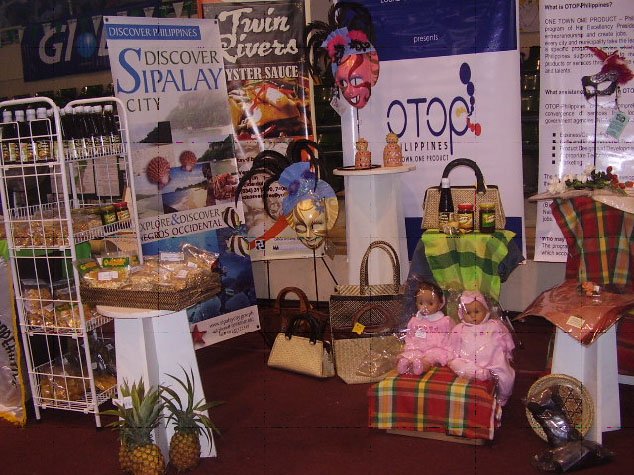 These are the OTOP of the different cities and municipalities in Negros Occidental:
Cities
Bacolod – Giftware & Holiday Decor with Masskara Accent
Bago – Silk
Cadiz – Dried Fish
Escalante – Danggit
Himamaylan – Processed Bangus
Kabankalan – Turones de Mani
La Carlota – Dairy Products
San Carlos – Peanuts
Sagay – Squid Rings
Silay – Native Delicacies
Sipalay – Tourism
Talisay – Bamboocraft
Victorias – Gawahon Eco-Park
Municipalities
Binalbagan – Garments
Calatrava – Pandan Products
Candoni – Lime
Cauayan – Corn
Don Salvador Benedicto – Pineapple
E.B. Magalona – Blue Crab
Hinigaran – Oyster Sauce
Hinoba-an – Processed Tuna
Ilog – Oyster
Isabela – Abaca
La Castellana – Ginger Tea
Manapla – Puto (Rice Cake)
Moises Padilla – Organic Rice
Murcia – Gamefowls
Pontevedra – Banana Marble
Pulupandan – Shrimp Paste
San Enrique – Kalamayhati
Toboso – Pandan Products
Valladolid – Hablon
Department of Trade and Industry
3F Prudentialife Bldg.
San Juan – Luzuriaga Sts.
Bacolod City
Tel. Nos. (034) 4330250, 7082423