Had my grandma not have her hair permed that weekend, we would have not known that Bago City is home to another marvel, the
Pataan Mountain Resort
. From Kipot Twin Falls, we travelled three (3) kilometers following the road to PNOC (thanks to the locals who gladly gave us directions). Along the way, a lady hailed to hitch a ride with us. Incidentally, she was going to the resort too. Turns out she works for the owner of the resort and her folks work there too. Knowing that, my folks didn't wait long before they could ask her more questions about the resort. So she gave us a little backgrounder.
It's owned by a retired police who bought the property in 1998. Many people had showed interest in co-financing the development of the resort but the owner declined them all. Too many cooks spoil the broth, so they say. Instead, they relied on the concerted efforts of family members who contributed to the growth of the property from a simple bahay bakasyunan to a resort ready to accommodate picknickers,backpackers and nature lovers.
The resort has now at least 9 picnic cottages (much like the day cottages at Mambucal, but built with wood) situated near the pool of water from the falls. Big groups can rent the space which doubles up as a canteen, the pavillion or the other bigger structure (restaurant set-up) at the opposite side of the day cottages. Two overnight rooms are available for group accommodations: one good for 6 and the other good for 15. There is a swimming pool which, during our stay, was dominated by kids. From there, you get a good view of the rice terraces in the lowland plus a good view of your parked vehicle, in case you feel like checking on it once in a while. If you think you are too old for the pool or just didn't want to pay PHP50.00 to get wet, there is the many pools of water from the waterfalls at no extra cost.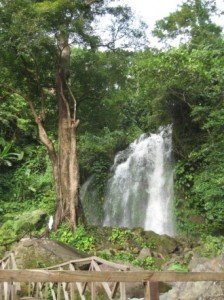 And the waterfalls. Wow… it's a different sight from the ones I've seen in Mambukal. It's wider and covered with greens all over. My folks took a dip in the pool under the waterfalls but didn't stay long because the water was cold. I would have gone with them had I been in better health during our visit. (poor me huhuhu).
If you want a new mountain resort experience, do check out Pataan Mountain Resort while it's not yet known to many. The owners didn't want to advertise so they rely on word of mouth and referrals of satisfied customers who bring friends and relatives along during their next visits. Works for them really, as they feel that they are not yet ready to draw more crowd than they could serve.
Here's some useful info about the resort:
Pataan Mountain Resort
Location: Sitio Pataan, Brgy. Mailum, Bago City
Contact Numbers: (034) 476-7296, 476-4856, 434-4262
How to Get There:

By Public Transport
| | | |
| --- | --- | --- |
| Travel Details | Mode of Transportation | Fare |
| Libertad Market to Ma-ao Public Market | Road Star Bus | P40/head |
| Ma-ao Public market to Pataan | Tricycle | P30/head |
| | | P150 for hire |
By Private Transport
1. From Bacolod City
Bacolod City > Araneta St > Brgy Sum-ag > Crossing Abuanan > Maao Public Market>
2. From Bago City
Bago City > Crossing Mining > Maao Public Market. When you reach the market, you just go straight up following the concrete road til you pass by the signboard to Buenos Aires, then Kipot Twin Falls. No harm in asking locals for directions to be sure (LOL!)
3. Going to Pataan via Murcia – There's another route which is especially useful if you're from Mambukal Mountain Resort and want to go to Pataan Mountain Resort. If you're from Mambukal, turn left at crossing going to Sitio Manghumay. There's a sign that says "going to Pataan" but to make sure you won't miss it, ask the locals once you reach the army headquarters.
From Bacolod via Murcia, you turn right when you see the sign before reaching the army headquarters.The road is mostly concrete but there are some areas which are not, but still very passable even for vans. It's around 5.8km before you reach the sign at crossing Sitio Pataan, Mailum, Bago City. The road to your left will lead you to Pataan Mountain Resort while the road to your right will lead to Kipot Falls and Buenos Aires Mountain Resort. Follow the road to your left for about 3km until you reach Pataan on the left side of the road. It's around 30minutes from Mambukal to Pataan.
View Going to Pataan via Murcia in a larger map
Useful Travel Tips:
There are no PUJs passing by the resort so you have to work out your transportation details.

Bring your own food and drinks, if you can help it. They don't charge corkage fee except for liquor (I'm not sure about the beer though). And bring only what you can consume so you wouldn't have to bring them all back home.

Make reservations in advance. Especially if you plan to stay overnight.

Be prepared to get wet.

You can't get your camera too close to the falls because of the mist so I suggest you bring one with a powerful zoom to get a good close-up of the falls.
Pataan Mountain Resort Fees     
| | |
| --- | --- |
| Entrance Fee | P50 per person, children below 3 ft are free |
| Swimming Pool Fee | Adult: P50 per person, Children: P30 per person |
| Corkage Fee: | Wine: P100 per bottle, Hard drinks: P150 per bottle/case |
Tropical Cottages and Pavilions

| | |
| --- | --- |
| Pavilion I, maximum of 35 persons | P1,200 |
| Pavilion II, maximum of 100 persons | P2,500 |
| Pavilion II, maximum of 30 persons | P1,000 |
| Cottages 1, 10, 11, 12, maximum of 20 persons | P700 |
| Cottages 2 to 9, maximum of 10 persons | P500 |
Room Rates
| | |
| --- | --- |
| Sampaguita (Big Room): | P2,000 for 10 persons |
| Gumamela (Wooden Room) | P1,500 for 4 persons |
| Ilang-Ilang 1, 2 (Mahogany Room) with common T&B | P800 for 4 persons |
| Ilang-Ilang 3 (Mahogany Room) with common T&B | P500 for 2 persons |
| Bougainvillea 1,2,3,4 (Tatami) w/ common T&B | P500 for 4 persons |
Additional Foam with complete beddings: P100 per person
Tent Rental: P500 per tent
*Bringing of beverages is not allowed. Prices may change without prior notice.